Welcome to the Winter Harbor Public Library. Stop by and sample our friendly atmosphere, historic building, and cozy reading room. Access our hi-speed Internet or browse the latest bestseller, a copy of the weekly newspaper, or our array of magazines. If we don't have the book you are looking for please ask, and we can order it for you through the state library system or you can download it on your e-reader through the state library cloud.
Thanks to a grant from the Stephen and Tabitha King Foundation, we have installed an ADA-compliant ramp for easier access into our building. Thanks to additional donations, we have purchased a bike rack and two benches, where you can enjoy the peaceful atmosphere under the shade of trees and check your emails. Or, come in to the cool, wood-paneled interior and filtered light of the stained glass windows (which are being restored) of this former chapel and find the latest bestseller or a classic Maine author from bygone years.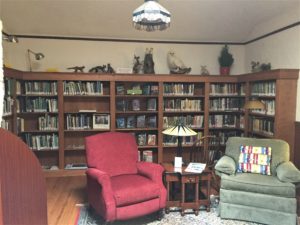 We have an extensive collection of books by and about Maine, both fiction and non-fiction. Read a newspaper or magazine in one of our inviting armchairs or check your emails. Brew a cup of coffee or tea with our Keurig machine. Going on a long trip? Take along an audiobook. Visiting for the summer and don't have TV service? Check out a DVD–or a jigsaw puzzle for those foggy days.
 CIRCULATING COLLECTIONS:

We have a well-rounded catalog of fiction and non-fiction book selections, DVDs, and audiobooks. We are always open to suggestions for purchases. Check our shelves frequently for NEW items. Books are loaned for 21 days. DVDs and audiobooks may be borrowed for 7 days. Jigsaw puzzles for 4 weeks. Patrons may check out up to 10 books, 5 DVDs, and 3 audiobooks at a time. Magazines may be checked out for 7 days. All books may be renewed by phone or email.

We also have a selection of used books for sale at the entrance of the library.
CHILDREN'S CORNER: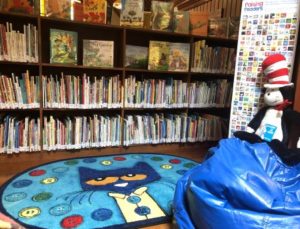 We're also continually adding to our children and young adult sections:
INTERLIBRARY LOAN  (ILL):
If we don't have the item you are looking for, please ask so that we can order it for you through the state library system. The due dates for ILL items are established by the lender, and not by Winter Harbor Public Library. There is no charge for ILL.
 E-BOOKS & E-READERS:
Wherever you are, if you're on the Internet, you have access to e-books through the Maine Library System's Download Library. Up to three e-books may be downloaded for seven days and may be renewed. If you need assistance with downloading books, please contact the library director.
Two Kindle Paperwhite e-readers and one Nook e-reader are available for a seven-day checkout. If you need assistance learning how to use these items, please ask the library director or any volunteer.
INTERNET & COMPUTER ACCESS:

The library has high-speed, wireless internet access available 24/7.  The signal is available from the parking lot, even when the library is closed.
The library has  four patron-accessible computers, including a desktop computer, two Chromebook notebooks, and a Samsung tablet available for use within the library. The Chromebooks may also be loaned for one day.
Printing and copying services are available for a small fee. Ask a volunteer for assistance.
TECH HELP:
Our Library Director is available on-site every Wednesday and Friday to help with basic technology questions.
Dan Keegan can help with your genealogy research using Ancestry.com and other online databases. Call for an appointment.
RENEW LIBRARY MATERIAL:
Patrons are welcome to extend the due dates of items they have checked out, unless another patron has requested that item. You may renew most items twice. You can renew at the library circulation desk, by calling the library at 963-7556 to leave a message, or by emailing the library at 963whpl@gmail.com.
DROP BOX:
A gift from a generous donor allowed us to purchase a drop box for your convenience. Your library materials may be safely returned in this box whenever the library is closed.
OVERDUE?
Not to worry.  We've got you covered.  There are no mandatory fines for late items. However, we always accept whatever small donation you might feel appropriate in such situations.  Or, if the spirit moves you, we accept donations even from people who have turned their books in on time!
SPECIAL SERVICES:
FOR THE HOMEBOUND: Mail delivery for homebound residents is available by calling the library.
FOR VISUALLY-IMPAIRED or LEARNING DISABLED: Talking books, Braille materials, and other support is available through the Maine State Library.