While the Library gets some of its funding from the citizens of Winter Harbor—we are dependent on support from generous individuals, civic-minded businesses, and public-spirited foundations to make our programs and services possible.
Your gifts to Winter Harbor Public Library are tax deductible. Charitable gifts to a library that is a town department are deductible under Section 170(c)(1) of the Internal Revenue Code which provides that gifts made for public purposes to cities are tax deductible.
At the end of every year, we hold an annual appeal. To be put on our mailing list, please contact us at 963whpl@gmail.com.
To find out other ways you can help, please see the library director or one of our trustees.
Also, please see our Wish List below….
---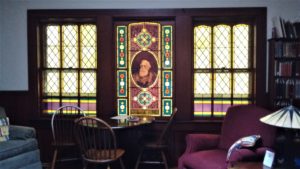 ---
WISH LIST
Help to continue restoring our stained glass windows
Pro bono professional advice: Legal, Financial, Architectural
Volunteers to support the Winter Harbor Public Library
Volunteers to support the Channing Chapel Building Association
Volunteers to plan and organize summer programs